D2 PHASER - The world´s best benchtop XRD system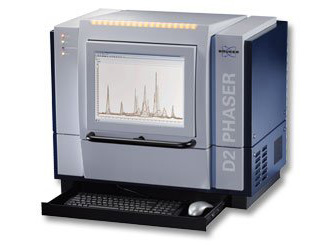 Superior data quality meets unparalleled ease-of-use
The D2 PHASER delivers data quality and collection speed that, up to recently, was thought impossible with a benchtop XRD system.
Due to its compact size, low weight, and ease-of-use design, the system is conveniently mobile, without the need for complicated infrastructure, large, heavy-load work benches, or vendor installation and alignment. A standard power outlet and a few minutes are all that is required to take they system from fully packaged to outstanding results.
The full-featured, and no compromise DIFFRAC.SUITE software package provides the easiest measurement method creation and most powerful and accurate analysis results. All covered with 21CFR Part11 compliance, if required. 
XRD - now even better: The D2 PHASER XE-T Edition
Now available with the state-of-the-art, energy dispersive LYNXEYE XE-T detector which is capable of delivering data quality not possible with any other benchtop XRD system on the market:
Virtual elimination of background from sample fluorescence and Bremsstrahlung scattering
Significantly improved peak to background boosting lower limits of detectionand quantification
Clean diffraction line profile shapes without metal filter artefacts to improve peak fitting results and accuracy in quantitative phase analysis
Cement
In close partnership with the cement industry Bruker is continuously pushing the performance of its analytical solutions.
Minerals & Mining
Bruker offers advanced solutions to reliably support geologists and mining prospectors on locating and analyzing deposits anytime and anywhere.
Material Properties
The D2 PHASER is a portable desktop XRD instrument for research and quality control. It is for instance possible to investigate crystal structures applying the fundamental parameters approach in the TOPAS software, nano-structures for fast and reliable SAXS measurements, or micro-structures (crystallite size).
Oil & Gas
The D2 PHASER is a mobile benchtop X-ray diffractometer (XRD) used in the identification of both bulk and clay minerals within geological samples. Moreover, X-ray diffraction (XRD) is an essential technique in the analysis of shale rock formations, allowing for qualitative and quantitative mineralogical characterization.