Advanced FT-IR Analysis for Routine, Research & Development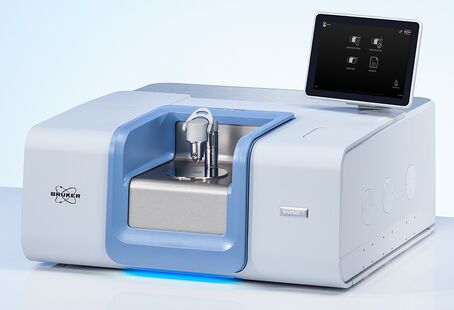 The INVENIO is made to innovate from routine quality control to advanced research and development. Whether you focus on productivity, precision or if you must comply to extensive regulations, the INVENIO supports you in every regard.
Benefit from our innovations.
Newly designed beam path for high signal to noise
Embedded touchscreen PC for the quickest and most efficient FT-IR analysis (optional)
Second sample compartment for parallel availability of two IR-setups (TransitTM)
MultiTectTM technology adds 5 detectors, allowing up to 7 internal detectors in total
Optional precise INTEGRALTM interferometer with < 0.085 cm-1 resolution and 3x beamsplitter changer for fully-automated multispectral range spectroscopy 

New SoC electronics provide spectroscopic precision and low energy consumption
Unique Bruker FM to measure MIR and FIR in one go
Expandable from FIR to VIS/UV and to time resolved spectroscopy
Requirements change, INVENIO adapts.
Your application is the measure of things and the INVENIO supports you in your endeavors. If your analytical needs grow, the INVENIO keeps up. It is the solid foundation you need for your daily analytical tasks.
Excellent sensitivity.
With its novel, efficient beam path design and precise optics, controlled by state-of the art SoC electronics, the INVENIO provides peak performance and reveals the smallest spectral details.
Powerful software.
OPUS, one of the most powerful software solutions for IR analysis, simplifies measurement procedures, supports FT-IR beginners and experts, provides a vast method creation toolset and offers extended functionalities for sample evaluation.
Always validated.
INVENIO is prepared with fully automated PQ (performance qualification) and OQ (operational qualification) routines for instrument validation in regulated pharmaceutical laboratories.
Experience quality.
Bruker only uses premium materials for every single component, starting from the durable housing up to our patented, wear-free, high-precision interferometer designs. The INVENIO is built to last and provides permanent availability for many years.
Never limit yourself.
Upgrade anytime and extend spectral range
Enable Step-Scan, Rapid-Scan and interleaved TRS
Change accessories, detector and beamsplitter in seconds
Use external modules for TGA, Microscopy or Emission Analysis and many more
FT-Raman module for enhanced analytical possibilities
GMP, GLP and 21 CFR part 11 compliance
More analysis.
Match the INVENIO to almost any sample type and switch sampling accessories in seconds, while the second sample compartment allows the parallel availability of two experiment setups.
Less effort.
To always ensure optimal measurement parameters, all central device components are electronically coded. Additionally, the optional embedded touch PC offers an amazing, intuitive user experience and state-of-the-art connectivity capabilities.