Decreased size, increased performance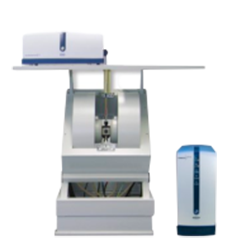 With the EMXmicro, Bruker presents a new compact Continuous Wave spectrometer (CW-EPR) with a footprint as small as a tower PC and increased EPR performance in magnetic field and signal resolution

The EMXmicro represents a new digital generation of CW-EPR spectrometers: It is a highly integrated digital spectrometer featuring field controller and signal processor with unsurpassed resolution and precision. Being a micro spectrometer, the EMXmicro frees lab space by integrating these devices plus an optional temperature controller in the footprint of a tower PC.

The EMXmicro represents an unparalleled performance-to-footprint ratio. The whole spectrometer electronics including the optional variable temperature unit (ER4141VT) comes in a tower-like console with a footprint as small as a tower PC. While the footprint decreased, the spectroscopic performance has been increased substantially in both magnetic field resolution and signal resolution.
Technical Details
18 bit center field resolution, corresponding to a precision of <60 mG
18 bit signal digitization
Up to 128,000 points for sweep axis
Full freedom in magnetic field sweep from 100 mG up to the maximum field
Independent of conversion time, large and small signals can be detected at once with one gain setting
Sequential detection of 1st and 2nd harmonic (or 0° and 90° modulation phase)
Sensitivity up to 1200:1 (International Weak-Pitch Protocol)
Easy upgrade to 

multifrequency CW-EPR from L-band to Q-band

Range of accessories and dedicated resonators
Devoted Instruments