NIR for Feed & Forage Applications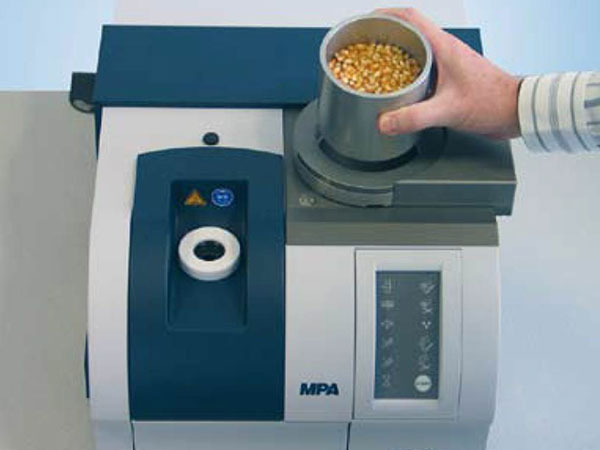 Video Caption:

What household items

Video Duration:

08 : 36
Bruker Optics offers the most comprehensive range of vibrational spectroscopy solutions for the quality control of feed and forage.
NIR for Feed & Forage Applications
Bruker Optics offers the most comprehensive range of vibrational spectroscopy solutions for the quality control of feed and forage.
Rapid, accurate and non-destructive analysis for:
- Moisture, Oil, Protein
- Fiber, Ash
- Amino acids
- Digestible Amino Acids
- Gross Energy (GE)
- Digestable Energy (DE)
- Metabolizable Energy (ME, AME)
Application Areas:
- Feed and Feed Ingredients
- Feed Additives (solid & liquid)
- Dried and Wet Forage
       The quality of feed has a significant impact on livestock productivity. Furthermore animal nutrition is the largest variable cost associated with livestock production. Thus, reliable analysis of feed and feed ingredients is the best way to ensure balanced feeding program and therefore the profitability of any livestock operation.
       Fourier Transform Near Infrared (FT-NIR) spectroscopy offers a fast and cost-effective solution for the non-destructive analysis of various feed and forage samples for quality control applications. Samples can be analyzed directly, saving costs by reducing time and reagent use. Even inhomogeneous materials can be analyzed without sample preparation. Easy-to-clean sampling cups allow an efficient sample throughput at low cost.
       Various types feed samples such as corn meal, soy meals, wheat, fish meal, animal meals and others can be rapidly analyzed for parameters like protein, oil, starch, moisture or dry matter, as well as more specialized parameters. Bruker Optics offers a complete solution for your quality control needs. The identification and qualification of your raw materials and the quantitative analysis of finished products can be performed in a matter of seconds to ensure the highest product quality and safety.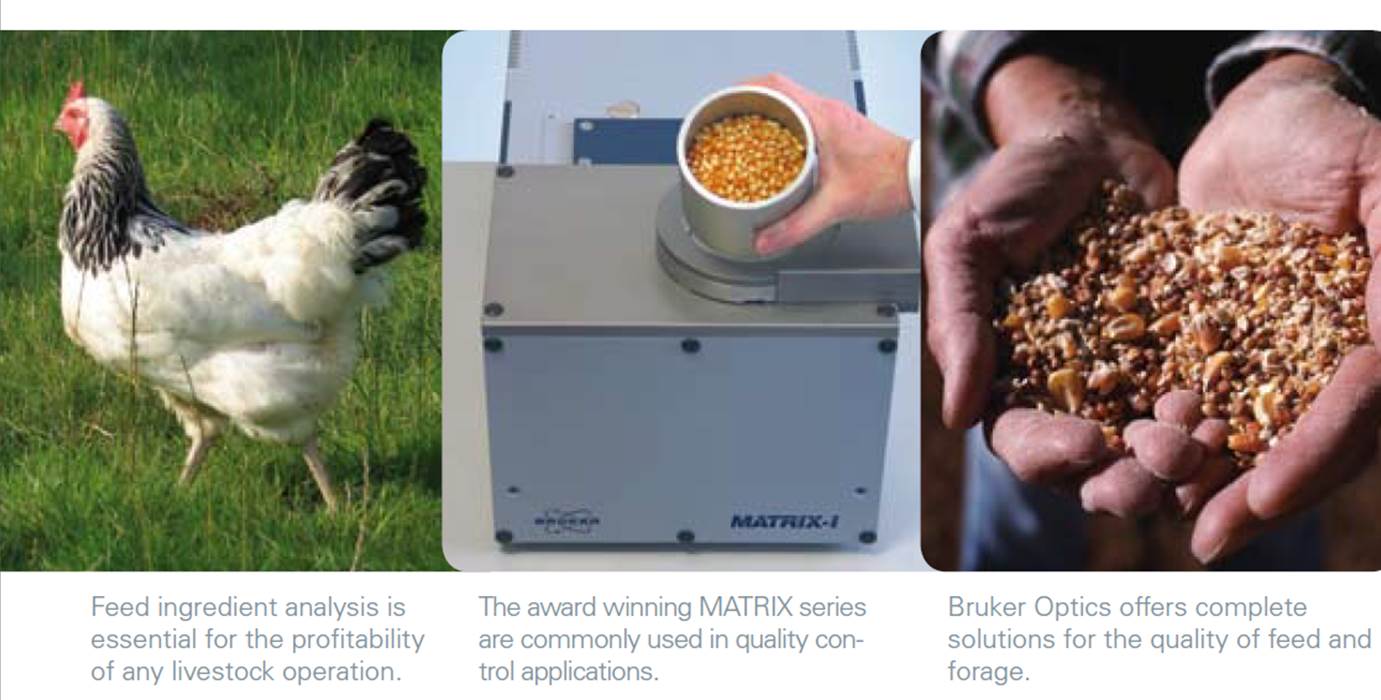 Laboratory and Process
       As the raw materials and their prices constantly change, it is difficult to keep the level of quality of produce and the profitability at a certain level. Bruker Optics offers solutions serving those involved in buying, producing and supplying feed and raw materials.
       Bruker Optics spectrometers can help you achieve your feed and forage analysis needs, from the acceptance of the raw materials, through the mixing and the pelletiser process and to the final product. The analysis can be applied in any moment during the production chain of your feed and forage produce. Furthermore, the analysis can be applied anywhere; warehouses, storage silos, production lines and quality control laboratories of feed mills and private analysis laboratories.
FT-NIR Technology
       Bruker Optics utilizes the Fourier Transform Infrared Spectroscopy in its award winning MATRIX Series and MPA systems. Due to its resolution flexibility and its wavelength accuracy, these systems are superior in comparison to other types of near infrared spectrometer systems, enabling you to expand your capabilities into demanding samples. High wavelength accuracy also offers easier calibration maintenance & transfers.
Easy Sampling
       FT-NIR spectroscopy requires no sample preparation; all you need to do is to position your sample on our instruments and get results in seconds. Bruker Optics supplies various accessories for your sampling needs; liquids, powders and solids can be analyzed with the same spectrometer.
Ready to use Calibrations
       Central Laboratories (CL), UK, and Walloon Agricultural Research Centre of Gembloux (CRA-W), Belgium, are recognized as the world leaders in NIR calibration development. They have combined their technical knowledge and resources to produce a unique NIR spectral database; INGOT®, universal NIR calibrations for the analysis of raw materials and finished products in feed and feed ingredients.
       INGOT® is avaliable for Bruker Optics NIR spectrometers in different levels, from individual product calibrations to comprehensive methods for an array of different products and parameters. The idea is simple: You only buy what you need. If you use a wide range of feed products as well as ingredients, you may want to use the comprehensive calibration. If you only want to check the quality of the feed for your sheep, a single product calibration is sufficient.
Credit : Bruker Co., Ltd.